Deprecated
: preg_replace(): The /e modifier is deprecated, use preg_replace_callback instead in
/www/htdocs/w0072016/wordpress/wp-includes/functions-formatting.php
on line
83
a film by Bruce Labruce OF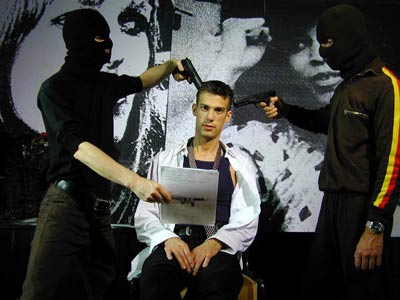 Sonntag, 14.01., 16 Uhr; Café der Weißenburg.
Berlin, 25 years after the "German Autumn", the sixth generation is starting the revolution again. JOIN THE HOMOSEXUAL INTIFADA! By kindnapping the son of one of the most powerful capitalist in germany the circle of violence, sex and betrayal is starting to move. KISS THE CAPTIVE!
An agit-porn movie about modern leftist Germans adopting the culture and politics of the extreme left wing movements of the 1970s. The leader of the Raspberry Reich, Gudrun, who has patterned herself after Gudrun Ensslin, one of the main members of the Baader-Meinhoff Gang (the Red Army Faction), spends her time indoctrinating vital, athletic young men to her cause. A strict devotee of Wilhelm Reich, she believes that heterosexual monogamy is a bourgeois construct that must be smashed in order to achieve true revolution. To that end, she forces her straight male followers to have sex with each other to prove their mettle as authentic.
Cause there is no revolution without sexual revolution, and there is no sexual revolution without homosexual revolution.

Literatur
Ausgewählte Dokumente der Zeitgeschichte: Bundesrepublik Deutschland (BRD) - Rote Armee Fraktion (RAF). Köln 1987. (Weblink zum Volltext)
Bazzichelli, Tatiana und Novati, Gaia: »Die Leute wollen Pornos drehen«. Interview in: Jungle World 42/06 (Weblink zum Volltext)
Büsser, Martin: Schlachtfeld Körper. In: konkret 03/06, S. 66-67.
Büsser, Martin: Triumph des Subjekt. In: konkret 11/06, S. 58-59.
Büsser, Martin: Die neue Prüderie. In: konkret 12/06, S. 60-61.
Brückner, Peter: Zum Tod von Holger Meins und Günter von Drenkmann und der Krise der Linken (Interview 1975). In: diskus (Hg.): Küss den Boden der Freiheit. Texte der Neuen Linken. Berlin 1992, S. 345-351.
Fallend / Nitzschke (Hg.): Der "Fall" Wilhelm Reich. Beiträge zum Verhältnis von Psychoanalyse und Politik. Frankfurt 1997.
Reich, Wilhelm: Die sexuelle Revolution. Frankfurt (Main) 1971.
Reich, Wilhelm: Dialektischer Materialismus und Psychoanalyse. In: Unter dem Banner des Marxismus (Organ der KomIntern) III(5), 5. October 1929, S. 736-771.
Rote Armee Fraktion: Metropole Bundesrepublik - Stadtguerilla Legalität und Illegalität (1971). In: diskus (Hg.): Küss den Boden der Freiheit. Texte der Neuen Linken. Berlin 1992, S.264-269.
Seeßlen, Georg: The Raspberry Reich. Bei: filmzentrale.com (Weblink zum Volltext)
Solanas, Valerie: SCUM Manifesto. Edinburgh 1997. (Weblink zum Volltext)
Vaneigem, Raoul: Handbuch der Lebenskunst für die jungen Generationen. (Orig. 1967) Hamburg 1980. (Weblink zum Volltext)
Film
W.R.: Mysteries of the Organism is a 1971 film by Dušan Makavejev that explores the relationship between communist politics and sexuality, as well as exploring the life and work of Wilhelm Reich. It features interviews with Reich's children Eva and Peter. More Information at wikipedia.
The Weather Underground is a 2002 documentary film based on the rise and fall of the American radical organization The Weathermen. The group's goal was to "bring the [Vietnam] War home" through acts of domestic terrorism. More Information.
Audio
Websites